Elles Mukunyadze – Chairman
(B. Acc (Hons), B. Compt (Acc) UNISA, CA.)
Mr Mukunyadze Managing Director for Training and Advisory Services (TAS); an offshoot of Chartered Accountants Academy. TAS is expert firm in International Financial Reporting Standards (IFRS) and International Public Sector Accounting Standards.
He is a Chartered Accountant and holder of a Bachelor of Accounting (Hons.) degree from the University of Zimbabwe and a B. Compt Honours (Accounting) from UNISA.
He had a 3 year stint with Ernst and Young as Audit Manager, specialising on financial services sector before joining Chartered Accountancy Academy
His competences in Finance are help strengthen the Board's financial oversight on the business. Mr Mukunyadze chairs the Finance and Audit committee. Mr Mukunyadze is the Chairman of Zambuko Trust Board and also chairs the Finance and Audit Committees.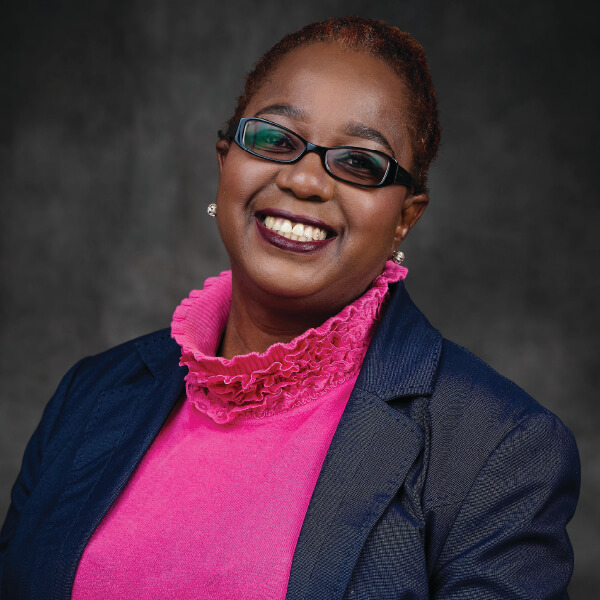 Lorraine Ndlovu – Managing Director
BA Administration, MBA
Lorraine is a seasoned and passionate banker who has an in-depth understanding of micro, small and large businesses across the various industry spectrum. She started her Banking career at Zimbank ( ZB Bank) in 1994 as a Graduate Trainee and has over 25 years of banking experience covering the areas of Corporate Banking; Project Finance; Trade Finance; Lease Financing and Microfinance.
She is passionate about entrepreneurship and finds fulfillment in being a catalyst for change in people's economic realities. She is continuously seeking opportunities to engage with organizations that empower entrepreneurs; develop African economies and alleviate poverty.
She is a holder of a Bachelor's Degree in Administration as well as an MBA, both from the University of Zimbabwe. Over and above this she has obtained qualifications in banking (AIBZ); Project Management (Diploma) as well as an Executive Qualification in Microfinance.
Masciline Chikoore – HR Committee Chairperson
MBA (UZ), IPMZ Personnel Dip. BSc PolAd (UZ)
Ms Chikoore is employed as Chief Human Resources Officer at Zimbabwe Consolidated Diamond Company. She is an experienced Human Resources strategist with a successful track record in crafting and implementing human resources strategies and systems including as job evaluation, performance management and change management in the Telecommunications, Manufacturing and Mining industries.
She has over 18 years senior Management experience as HR practitioner.
She is an experience in Human Resources strategist with more than 18 years of Corporate Management experience acquired during her more than 18 years stint with Telecel Zimbabwe, General Beltings Ltd, Cernol Chemicals, and TelOne.
She also worked for the then PTC for more than 10 years at various management levels in HR department. She brings the vital HR expertise to the Zambuko Board, of which she chairs the HR and Remuneration committee.
Risk and Credit Committee Member
Grown M. Chirongwe – Risk and Credit Committee Member
BSc, Hons. Economics, MSc Economics. (UZ)
Mr Chirongwe is a Manager in the Finance and Statistics Department at the Zimbabwe National Statistics Agency, ZIMSTAT, formerly Central Statistical Office (CSO).
Mr Chirongwe worked as a Statistician for 7 years at the Central Statistical Office.
Grown also worked as a Research Economist in the Commercial Bank of Zimbabwe and the National Discount House of Zimbabwe (NDH LTD) for a total of 6 years.
He worked for 6 more years in the United Kingdom. He came back to Zimbabwe in 2008 and assumed his current position with ZIMSTAT. Grown has experience in the collection and compilation of Finance Statistics, National Accounts Statistics, conducting economic surveys and poverty analysis.
Grown is a keen researcher and report writer. He is a holder of a BSc honours and a Masters' degree in Economics from UZ.
He is a member of the Risk and Credit Board committee.
Risk and Credit Committee Chairperson
Fungai Chimwamurombe – Risk and Credit Committee Chairperson
LLB (UZ), MBA (Finalist)
Fungai is a registered Legal Practitioner, Notary Public and Conveyancer, having obtained his degree from the University of Zimbabwe. He is the Senior Partner at Chimwamurombe Legal Practice "Zenas".
He is a holder of Certificate in Business Management (University of Zimbabwe) and a finalist of Masters in Business Administration from Steinbeis University, Germany.
Fungai is a registered Estate Administrator and a member of the Marketers Association of Zimbabwe.
Fungai sat on various boards which included the Contact Centre Association of Zimbabwe and Zambuko Microfinance Trust. He worked as a legal advisor in various companies in the mining sector and education sector, before practicing in the Commercial and Labour department of an established and leading law firm in Zimbabwe.
He is well trained ad has vast experience in land laws, construction laws, media laws, contracts restructuring and interpretation, debt recovery, commercial advisory and labour matters.
He has done important cases in construction and land laws in the country that has been published in local and international articles and media houses. His knowledge in construction laws has earned him respect to do legal work for leading construction companies in Zimbabwe.
Zambuko Trust (Pvt) Ltd (Zambuko Trust) is a Faith-based developmental Microfinance Institution, one of Zimbabwe's pioneer Sector Institutions.
Head Office, and Harare Branch:
No. 6 Aberdeen Road
Belgravia
Harare

Postal Add: P O Box 1183, Harare
Email: info.zambukotrust@gmail.com
financialservices@zambukotrust.co.zw

Tel: +263 (24) 2333692/3, 2302495